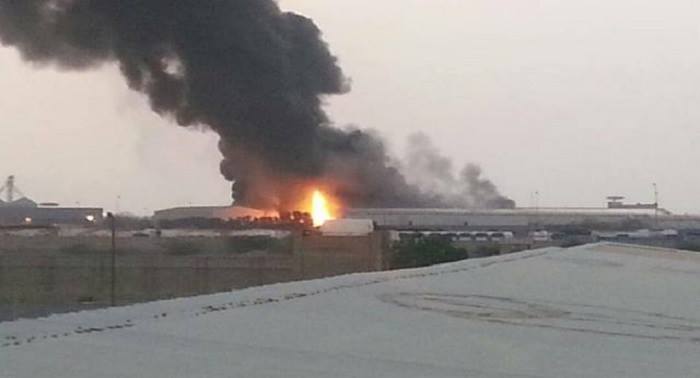 WFP warehouses bombed by the Saudi-led coalition, UN expresses worry
YemenExtra
M.A.
The United Nations warned on Friday of targeting food stores belonging to its organizations in Hodeidah after the World Food Program (WFP) warehouses were shelled after the incitement of ministers of the pro-coalition Hadi government who claimed that the Yemeni Army and Ansarullah were using it to store weapons.
The UN Food and Agriculture Organization (WFP) said the destruction of a food storage facility caused by fighting in the coastal city of Hodeida could threaten to disrupt millions of Yemen's feeding efforts.
Speaking to reporters in Geneva, WFP spokesman Irvine Virgil said the continued clashes near the Red Sea mill silos, a "vital facility for WFP operations", could affect the UN agency's ability to feed, for a month, about 3.5 million suffering from extreme hunger in northern and central Yemen.
The spokesman added that a mortar shell fired by an "unknown armed group" also hit a warehouse of the program in the city of Hodeidah, seeking enough food to help more than 19,000 people in need.
According to the program, the security situation in Hodeidah is "rapidly deteriorating" and threatens humanitarian assistance in and around the city, where food supplies have reached very low levels.
The World Food Program (WFP) spokesman said about 8 million people were on the verge of famine throughout Yemen "and we can not afford any activities that would disrupt our operations to provide food and nutrition."
Irvine Virgil reminded warring parties that humanitarian workers should not be targeted, noting that the program would "hold the parties responsible" for any attacks on its facilities.
The warehouses of the food program in the city of Hodeidah, which are under the control of the Yemeni Army and Ansarullah were attacked right after the direct incitement made by the ministers of information and human rights in the government of Hadi, loyal to the coalition, Saudi Arabia and UAE, for they have alleged that Ansarullah aka Houthis use the warehouses and other UN facilities to store weapons.