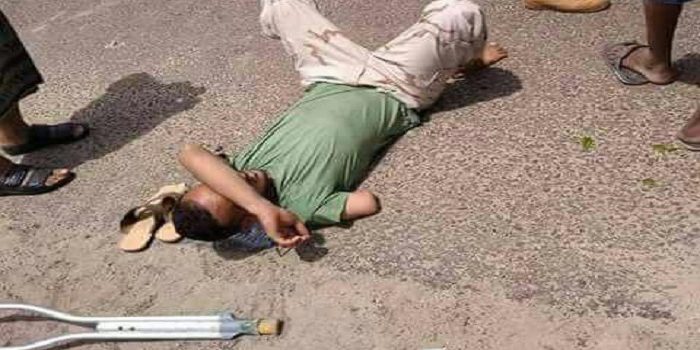 A Saudi-led coalition mercenary with an amputated arm gets beaten for demanding his rights
YemenExtra
M.A.
A number of wounded and war invalids who fought among the Saudi-led coalition ranks were beaten and fired in Aden by security forces loyal to the UAE.
According to local sources in Aden, a number of wounded and disabled who fought in the ranks of the coalition protested for several days in front of the headquarters of the Saudi-led coalition against the disavowal of the coalition countries of financial and therapeutic obligations towards them.
The sources added that these protesters were beaten and fired with the aim of disbanding their sit-in by security elements loyal to the UAE.
A picture taken by the reporter, a member of the pro-UAE brigades, displayed a combatant who had his arm amputated during the war, and lying on the ground crying after being beaten while participating in the sit-in.
A Saudi-led coalition mercenary with an amputated arm gets beaten for demanding his rights
Prev
1 of 4
Next