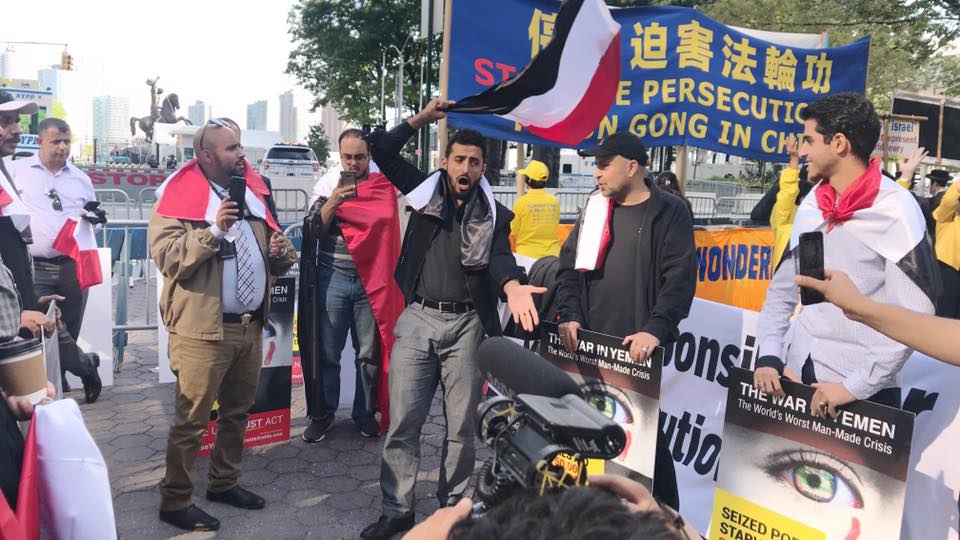 Yemeni/US activists in New York protest Saudi war crimes in front of UN
YemenExtra
M.A.
Yemeni and US activists held a protest rally in front of the United Nations General Assembly headquarters to ask the Commission to take responsibility for war crimes and human rights violations in Yemen in conjunction with its seventy-third annual session.
The activists raised banners condemning the crimes of the Saudi-UAE alliance in Yemen and demanding the United Nations and the international community to intervene immediately to stop them. They also chanted slogans against the alliance, including "Down with Saudi Arabia."
The activist in the protest, Mohammed al-Zubaidi, said in a statement to the Yemeni news that the protest was part of a series of protests carried out by the Yemeni community in New York to deliver the message of the Yemeni tragedy to the world.
He pointed out that the implementation of this protest in conjunction with the annual session of the General Assembly of the United Nations aims to call on the United Nations to play its role properly in neutralizing civilians and stopping air strikes from targeting the Yemeni people without exception.
Meanwhile, a report by UN experts accuses the coalition of committing horrific human rights abuses that could amount to war crimes in Yemen.