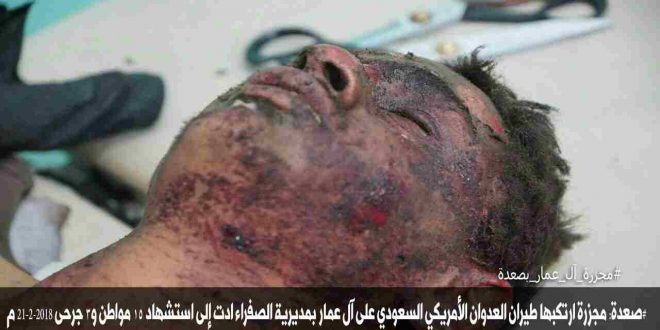 Latest Records of Saudi Humanitarian Violations in Yemen (Sep.28.2018)
YemenExtra
M.A.
The Saudi-led coalition on Friday continued its raids and bombardments on a number of provinces, causing casualties and material damage inflicted by public and private property.
In Hajjah province, a citizen was killed by a Saudi air raid that targeted his car in the village of al-Shorfa, located in the district of Harad. In addition, Saudi warplanes struck the market of the district of Hiran, leaving many killed and wounded, while it went on targeting a bridge that connects the two districts of Hiran and Mustbaa, which resulted in wounding many civilians.
In Saada, located in the northern bordering side of Yemen, Saudi jets conducted three raids on homes of citizens in Baqem district, and a raid on Atafin area in the district of Kattaf, while it also launched more than 14 raids on different areas within the district of al-Zaher.
Moreover, the Saudi militants targeted by rocket and artillery, different districts of al- Zaher, Shdda, Razih and Baqem bordering regions, resulting in destruction in civilians' homes and farms.
In al-Jawf, Saudi military aircraft carried out three raids on houses and property of the citizens in Rahoub, in the district of Birt al-Anan, where the mercenaries of the Saudi-led coalition fired artillery shells on a civilian's house based in al-Musloub village.
In Hodeidah coastal province, the mercenaries affiliated with the Saudi-led coalition bombed civilian houses with more than 30 shells in the city of Durahemi, causing severe damage to their property.