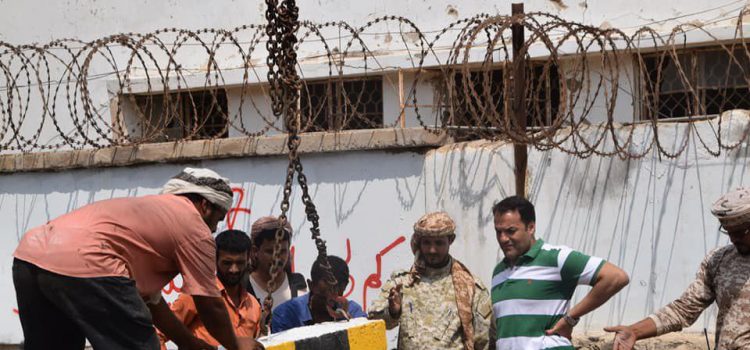 UAE hedges the office of the UN envoy in Aden with large concrete ,human chains , as observers ringing the alarm bell ..!
YemenExtra

Y.A
According to local sources in the city of Aden,run by UAE,  the United Arab Emirates on Monday placed large security fences around the headquarters of the Office of the UN Envoy to Yemen, Mr. Griffith, and reinforced the area with a large military presence.



According to the sources, the UAE commissioned one of its paid fighters, Ashraf Amjad Abdul Hamid Al-Subaihi, to install concrete barriers and security arrangements around the headquarters of the Office of the UN Envoy to Yemen and some of the buildings of embassies and international organizations.
The source said that the so-called security officer observe in his field visit all the security sites at the entrances and exits of the embassy district, stressing the members of security guards to raise vigilance to secure the headquarters of international organizations.



This comes weeks after the announcement of the UN envoy to Yemen in his briefing to the Security Council that the countries of the coalition have thwarted the recent paths of dialogue and canceled all peace initiatives, in their stead to further commit crimes against the Yemeni people and continue the war on Yemen.



Observers described these military security steps taking place in Aden in an unprecedented manner, they expresse the intentions of the UAE's state , which may commit to the premises of embassies and organizations in the upcoming days.



Observers expected that the UAE would blow up these buildings and target them through their criminal tools from the so-called al-Qaeda elements and Daesh who are fighting amid the forces of the coalition on more than 11 different fronts in Yemen.