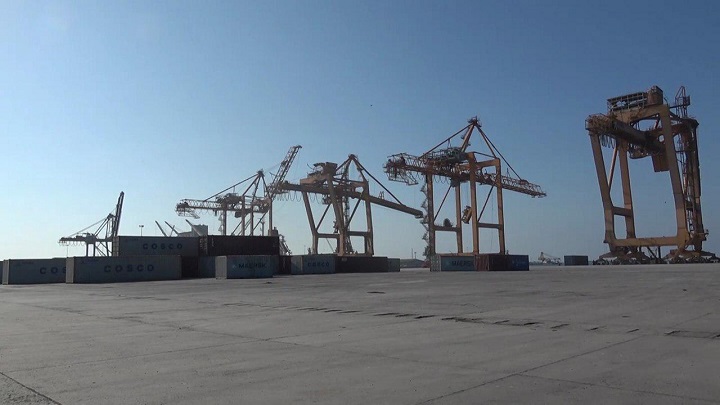 Yemen's Oil ministry condemns forcing coalition three vessels to leave port of Hodeidah
YemenExtra
SH.A.
Yemen's Oil and Mineral Ministry condemned forcing the Saudi-led coalition three oil vessels to leave the port of Hodeidah, in flagrant violation of international laws and conventions.
The Saudi-led coalition forced Distya Pushti, Sincero and Cleared ships to leave the port of Hodeidah and held in Djibouti in its current escalated in Hodeidah and insist on destroying the most important vital artery port of the Yemeni people, Yemen's Oil ministry said.
These ships carry the United Nations permits issued for ten days, and the coalition has already locked it up and then allowed it to enter the harbor about a week ago, and resume to forcing it to leave port while visiting the port of Hodeidah, Executive Director of the world food and the humanitarian coordinator in Yemen.
The Saudi-led coalition continues in arbitrary practices signatories against the Yemeni people over the 24 hours while the international peace calls and in particular the Secretary-General's call for the United Nations Special Envoy stressed the need to neutralize Hodeidah port to ensure the continued flow of goods and supplies food, pharmaceuticals and petroleum products.
Despite warnings of unprecedented famine, the aggression coalition in blatantly way practice its war on the Yemeni people pounding Hodeidah port and forcing oil vessels and wheat to departure.
The statement reiterated the assertion that coalition and his blockade practices totally incompatible with all international instruments, international humanitarian law and international protocols, noting that obstruct the entry of oil ships lead to humanitarian disasters and rising prices of oil derivatives, which cast a shadow on Agricultural and industrial activity as raising the cost of public services.
Obstruct oil vessels entering negatively and dramatically developing hospitals and the services level back down to a lousy degree besides being creates insecurity crisis oil derivatives.
"Rather the international community and the United Nations work to stop these crimes that violate international law and therefore classifies stature and credibility of the United Nations and not merely statements of concern and warnings that do not prevent these crimes and violations against the Yemeni people."Said the oil ministry.
Source: The Official Saba News Agency.
READ MORE:
Numerous Condemnations of Coalition Attack on the Port of Hodeidah