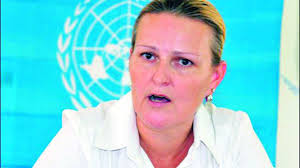 Everything Must Be Done to End the War in Yemen: Lise Grande
YemenExtra
M.A.
The head of the Supreme Revolutionary Committee, Mohamed Ali al-Houthi, met today with United Nations Resident Representative for Humanitarian Affairs in Yemen, Lise Grande.
The meeting discussed the ways to deal with the tragic humanitarian situation suffered by the Yemeni people as a result of the war and siege of Saudi Arabia and its allies for nearly four years.
During the meeting, the head of the Supreme Revolutionary Party praised the efforts of the humanitarian coordinator in Yemen in the relief work and pointing out the catastrophic humanitarian situation of the people of Yemen, whereas the coalition states and their allies are committing war crimes as well as crimes against humanity.
He described what the Yemeni people are subjected to in terms of deliberate shelling and double strikes, and the siege imposed by the Saudi-led coalition and the economic war, which led to a severe deterioration in the living conditions of the majority of the Yemeni people; millions of them are on the brink of starvation. Thousands of hundreds of children have died due to inadequate nutrition and necessary medication.
The United Nations and other humanitarian and relief organizations called on the humanitarian side to exert more efforts to help the Yemeni people in proportion to the magnitude of the damage and tragedy that is internationally ranked the largest in the world.
Al-Houthi stressed that the assistance of the organizations to the people of Yemen in the face of the threat of famine is at the core of its work, based on its basic duty and the humanitarian responsibilities it has undertaken to perform.
He stressed the readiness to cooperate with the humanitarian coordinator and relief organizations to facilitate their work in Yemen, referring to the mechanism he had proposed to the Secretary-General of the United Nations and his Humanitarian Affairs and Special Envoy to Yemen to replace the emergency cash relief.
The head of the Revolutionary Committee referred to the advantages of this mechanism in serving needy families and in facilitating and activating the work of the organizations. He reiterated the provision of all measures to ensure that cash relief reaches its beneficiaries in the non-occupied areas without discrimination or any barriers.
On the other hand, the humanitarian coordinator in Yemen confirmed that the international community is now aware of the magnitude of the human tragedy in Yemen, which has become a priority of issues in international forums.
"The international community has been convinced that this is long overdue and everything must be done to end the war in Yemen," she said.
Grande referred to the efforts made by the United Nations to improve the economic situation in Yemen, stressing that there is still a lot of work to be done.