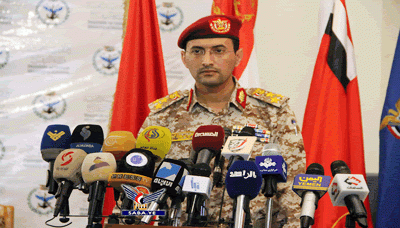 Saudi-led coalition intensifies raids on Yemen a day before peace talks : Spokesman of Armed Forces
YemenExtra
M.A.
The spokesman for the Yemeni armed forces, Brigadier General Yahya Sarie, said on Wednesday that the Saudi-led coalition and their mercenaries intensified raids and escalated military operations on Yemen in the day which the Yemeni' delegation arrived to the Swedish capital and a day before the start of negotiations.
He said that the Saudi-led coalition waged over 60 raids, adding that 26 raids hit Nehm, nine airstrikes targeted Durihmi district in Hodeidah province, causing huge losses in properties of the citizens and leaving dozens of dead and wounded among the civilians.
In the western coast, the mercenaries tried to infiltrate in Durihmi district from many axes for five hours, causing the killing and injuring of more than 55 mercenaries, including Sudanese nationality militiamen, while the others fled. 
In Nehm, the mercenaries' infiltration to Nehm was foiled by the army, where dozens of the mercenaries were killed and injured, including military commanders.
He added that other infiltrations of mercenaries were in Kania front and were successfully foiled by the army while the Saudi' fighter jets hit the mercenaries' gatherings in al-Swda area and left dozens dead and wounded among their ranks, including commanders.
The spokesman also referred to the army's achievement in repelling an infiltration carried out my coalition paid-militias in Dhale province, killing 12 mercenaries and injuring 20 others.
In Jizan, the Saudi-led coalition foiled an infiltration attempt in al-Malahyd front, which led to the killing and injuring of dozens of mercenaries.
The spokesman also confirmed the preparation of the Yemeni Armed Forces to face an escalation conducted by the Saudi-led coalition and its paid-militias.  
He also held the US-backed coalition responsible for the military escalation that thwarts the efforts of the international community to stop the aggression and bring peace to Yemen.