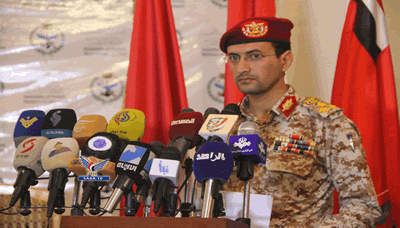 Saudi-led coalition continued targeting civil areas over 24 hours: Army Spokesman
YemenExtra
M.A.
The Yemeni army spokesman Brigadier General, Yahia Sarie, said on Wednesday that the Saudi-led coalition fighter jets continued targeting civil areas and citizens' property over the past 24 hours.
In a statement, Sarie confirmed the fighter jets launched 22 strikes with artillery and missile attacks from their militiamen on residential neighborhoods in Hodeidah city.
The coalition's attacks occurred at a time of the UN-backed peace consultations taking place in Sweden and that contradict with the peace efforts," Sarie said.
The spokesman said the Yemeni army repelled numerous attacks towards several fronts, killing and injuring scores of the militiamen.
The spokesman stressed that the Yemeni army has the right to respond to any military escalation conducted by the US-backed coalition.