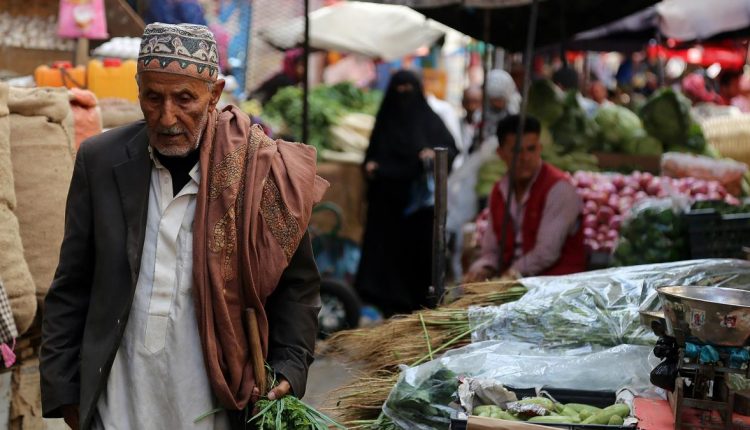 Official efforts to provide goods and control markets in Yemen
YemenExtra
SH.A.
President Mahdi al-Mushat met with Minister of Industry and Trade Abdulwahab al-Durra, who briefed him on the ministry's efforts in providing commodities and controlling markets before the holy month of Ramadan.
The meeting dealt with the situation of the industrial sector and aspects related to investment as well as providing land for the industrial zone in Bani Matar area in Sana'a province.
In the meeting, the president directed the ministry to intensify efforts, field visits, prepare plans to control the markets, provide food commodities and control the prices, especially with the advent of the month of Ramadan to serve the citizen and protect him from any manipulation or exploitation.
He also directed the Ministry of Industry and Trade to provide domestic gas and take precautions to meet the increase demand for this material during the holy month, noting the concrete efforts played by the Ministry of Industry and Trade and their employees during the last period.
For his part, the Minister of Industry and Trade presented during the meeting the plan of the campaigns launched before the month of Ramadan to protect the consumer.
He reviewed the plan to provide food stocks for the next four months and the flow of food commodities in all commercial markets according to the price list issued by the ministry and according to the highest standards of quality in force.
During the meeting, the President of al-Mashat was briefed on the preparations being made for the establishment of competition for inventors, entrepreneurs and innovators.
The President of al-Mashat directed to support, sponsor and fund the competition, to sponsor its pioneers, as well as to the adoption of their projects in cooperation with the Fund to develop skills.
According to recent statistics issued by the Law Center for Rights and Development, the total number of civilian deaths amounted to 15,579, including 9,870 men, 2,452 women and 3,267 children, while the number of wounded reached 24,421, including 18,380 men, 2,557 women and 3,484 children.
The statistics indicated that the coalition's warplanes destroyed 24,000 service and economic facilities over the past four years.
The destroyed facilities included 15 airports, 16 ports, 2,077 roads and bridges, 2,015 government facilities, 923 schools and institutes, 3638 agricultural fields, 695 mosques, 132 university buildings, 295 factories, 226 tourist facilities, 61 sports facilities, 39 media buildings, 175 archaeological sites and 7,431 commercial establishments.
The coalition warplanes also destroyed and caused damage to 4,514 transport vehicles, 232 fuel trucks, 344 fuel and gas stations, 675 water tanks and networks, 275 hospitals and health facilities, 41,915 homes, 158 power plants and networks, 391 telecommunication networks and stations, 602 food trucks, 310 farms of chicken, cattle and bee and 430 fishing boats, according to the statistics.