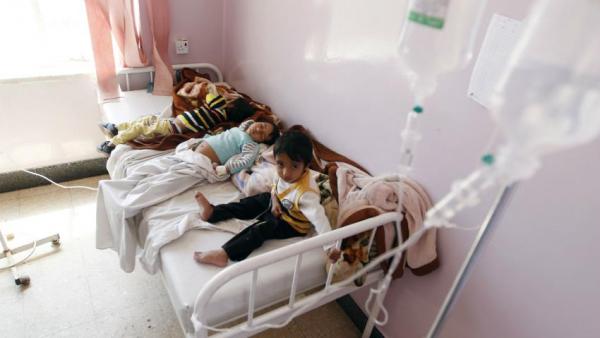 Saudi-led coalition spreads diseases , then kills the Yemeni patients
YemenExtra
Y.A
The Yemeni Ministry of Health revealed in its report that ninety-seven percent of the equipment, medical devices went out of service after it exceeded the life span and can not be maintained as a result of the blockade. While 60 percent of the health facilities because of the siege and targeting direct and indirect war against the people.
A critical situation for patients in hospitals due to the lack of medicines and medical supplies increased the situation of Sana'a airport closure in front of tens of thousands of incurable diseases.
He held the UN and its Special Envoy responsible for all coalition's massacres against the Yemeni People including the latest, adding that more than 100,000 Yemeni children die in one year because of the coalition and the siege imposed on the Yemeni people.
Also, paramedics were killed by the coalition's targeting of ambulances. In a statement, the Ministry of Health condemned the coalition that cross all red lines and targeting the two ambulances, their medical crews and patients on bord.
In a protest in Dhamar, doctors and staff of the General Hospital today condemned the media campaign and false news targeting the hospital, patients, health staff and workers.
During the protest the participants confirmed that Dhamar Hospital General Hospital is a civil health facility that provides medical, health services to citizens and patients of all categories. All specialties, more than five hundred employees and health and technical staff in all departments participated in the protest, denying the false news and fabrications of the media of the coalition and its paid fighters about the existence of a secret prison to detain dozens under the hospital, and confirming that the body is a medical institution that provides health and humanitarian services to the community around the clock.
In March 2015, the US -backed –Saudi-led coalition started  a war against Yemen with the declared aim of crushing the Houthi Ansarullah movement, who had taken over from the staunch Riyadh ally and fugitive former president Abd Rabbuh Mansur Hadi, while also seeking to secure the Saudi border with its southern neighbor. Three years and over 600,000 dead and injured Yemeni people and  prevented the patients from travelling abroad for treatment and blocked the entry of medicine into the war-torn country, the war has yielded little to that effect.
Despite the coalition claims that it is bombing the positions of the Ansarullah fighters, Saudi bombers are flattening residential areas and civilian infrastructures.
More than 2,200 others have died of cholera, and the crisis has triggered what the United Nations has described as the world's worst humanitarian disaster.
#YemenCantWait #YemenGenocide #Yemen #Yemencantwait #YemenGenocide #Yemen_children #StoparmingEmirates #StoparmingSaudi #Stopthewaronyemen#LivingInYemenOnTheEdge#SoldarityWithThePeopleOfYemen