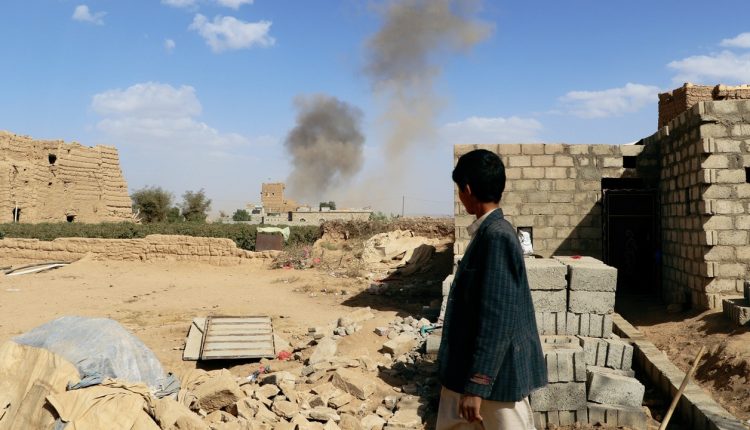 July 27: Saudi American War Crimes in Yemen
YemenExtra
M.A.
The Saudi-led coalition continued last Saturday to launch raids and carrying out bombardments on a number of Yemeni provinces, leading to casualties and great damage to public and private property. Additionally, the Saudi/UAE mercenaries continued their violations of the cease-fire agreement of Hodeidah coastal province.
In the Yemeni province of Hodeidah, a civilian was killed and 5 civilians were injured as a result of artillery shells conducted by the mercenaries of the Saudi-led coalition on Musa Street in the Meana'a district.
Moreover, a woman was wounded by the forces of coalition in the al-Mughars within the district of Tuhita. Meanwhile, Saudi mercenaries used various machine guns in targeting the al-Dhibiani neighborhood and al-Ittihad Hotel in the residential area of 7-Yolio. In addition, the forces of aggression struck with missiles the Yemani intersection, Dhibani neighborhood and the vicinity of the al-Ittihad Hotel.
The Saudi mercenaries also attacked, using heavy and medium machine guns, the Shabab city in 90th Street and various areas of the 7-Yolio residential area. Moreover, the aggression forces shelled with artillery and machine guns al-Jah area in the district of Beit al-Faqih and the also the besieged city of the al-Durayhimi.
It is worth mentioning that Apache helicopters were seen in the atmosphere of the al-Jah area in the district of Beit al-Faqih.
In the Hajjah province, the Saudi military aircraft carried out a number of four raids on the districts of Harad and Hiran.
In the northern province of Saada, the Saudi-led coalition carried out a missile and artillery shelling, targeting populated villages in the district of Munebah bordering district with Saudi Arabia. Moreover, a mosque was damaged by the Saudi rocket and artillery bombardment on populated villages in the bordering province of Razih within the kingdom.