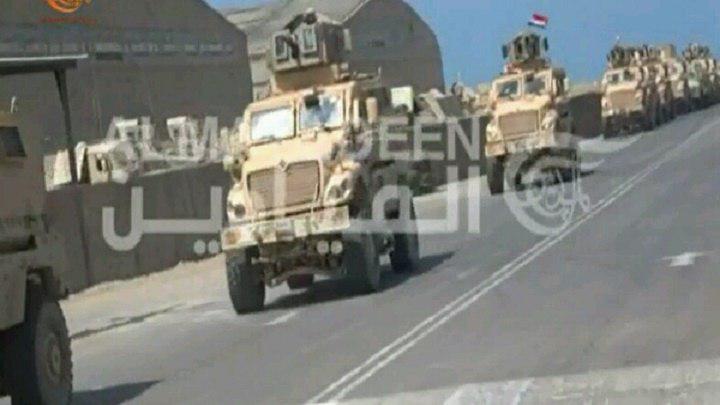 Arriving of New UAE Military Reinforcements to Aden, UAE's Efforts to Build Military Port in Al-Makha
YemenExtra
M.A.
Source of Al-Mayadeen TV revealed that the UAE is continuing to equip a new battle on the front of Taiz to mobilize troops and transport weapons, noting that the arrival of an Emirati vessel was monitored at the oil port in the Aden facility.
Al-Mayadeen TV reported that the Emirati vessel emptied 100 armored vehicles, military vehicles and various ammunition, while the UAE forces established a new port for warships behind Al-Tun factory in Al-Makha city. Exclusive scenes at the end of September showing the arrival of three merchant ships loaded with dozens of armored vehicles and more than a thousand mercenaries trained in one of the UAE camps in Djibouti.
In the same context, a member of the Political office of Ansarullah Mohammed Nasser Al-Bukhiti said that the arrival of 100 armored vehicles and cannons to transport them to Taiz is a wrong UAE move.
Al-Bukhiti added in remarks to Al-Mayadeen TV that the UAE is seeking to establish its presence in Taiz and this contradicts its announcement of withdrawal from Yemen. He stressed that the UAE's efforts to build a military port in Mocha confirms its intention to stay in Yemen, not withdraw from it.
He pointed out that all the UAE steps are under US supervision and the rules of engagement will not change. "With regard to the withdrawal of the brigades of the so-called Southern Giants forces from the West Coast fronts. He said that the UAE has directed the 4th Brigade of the Giants to Aden to strengthen the status of the Transitional Council forces."
He pointed out that there is a tightening of the siege on Yemen, where Saudi Arabia is holding oil vessels despite the authorization of the United Nations.Al-Bukhiti was surprised at the conclusion of his statement that there is no international reaction to prevent oil derivatives from arriving in Yemen.
This pot originally ran on Almasirah English