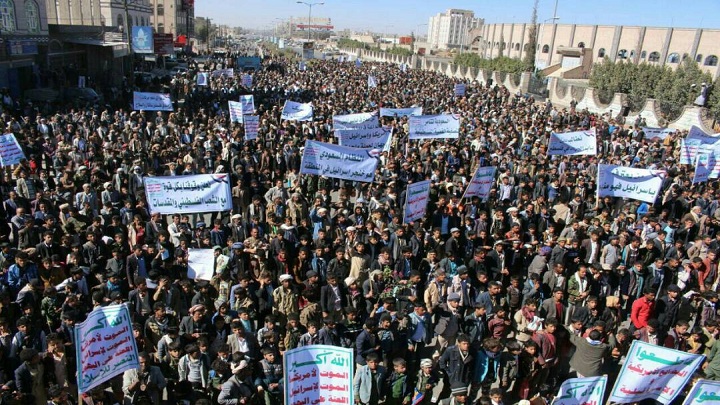 Thousands if not millions of Yemenis protest Trump's Quds decision in Dhamar
YemenExtra
M.A.
The city of Dhamar witnessed on Sunday a mass rally to denounce the American decision to recognize Al-Quds as the capital of Israel, and to condemn the shameful Arab silence regarding this decision.
During the demonstration, participants shouted slogans that expressed their rejection of the American decision to consider Al-Quds Jerusalem as the capital of Israel, stressing that Al-Quds was and will remain the eternal capital of Palestine and as one of the most important Arab and Islamic sanctuaries.
The protesters also condemned in a statement the collusion of some Arab regimes with the American decision, such as the Saudi regime and the rulers of the UAE and their leadership of the normalization process with Israel.
Moreover, they called on the world, particularly the Arab and Islamic countries, to take practical steps in order to confront this American breach and to cut diplomatic relations with America. In addition, they stressed on the importance of commercially boycotting the US and activating popular disaffected attitudes against Israel.
They also called on all the Yemeni people to support the Palestinian people and provide them with funds and weapons to strengthen their steadfastness in the face of Israel until all Palestinian territories are liberated.