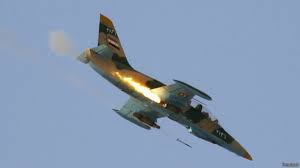 Saudi-led coalition air strikes kill more than 30 last night in Hodeida
YemenExtra
SH.A.
Yemeni witnesses and security officials say Saudi-led coalition air strikes have killed at least 30 people last night in the port city of Hodeida.
They say Monday's strikes also wounded eight others. The blaze erupted in a market after a strike targeted a nearby petrol station in el-Garrahi district, they said.
Most of  the victim's bodies were burning and shuttered into parts of the long distances from the place of the raids,added the source.
Read More:
https://www.yemenextra.net/2018/01/01/three-civilians-killed-in-fresh-saudi-war-crime-in-hudayda/