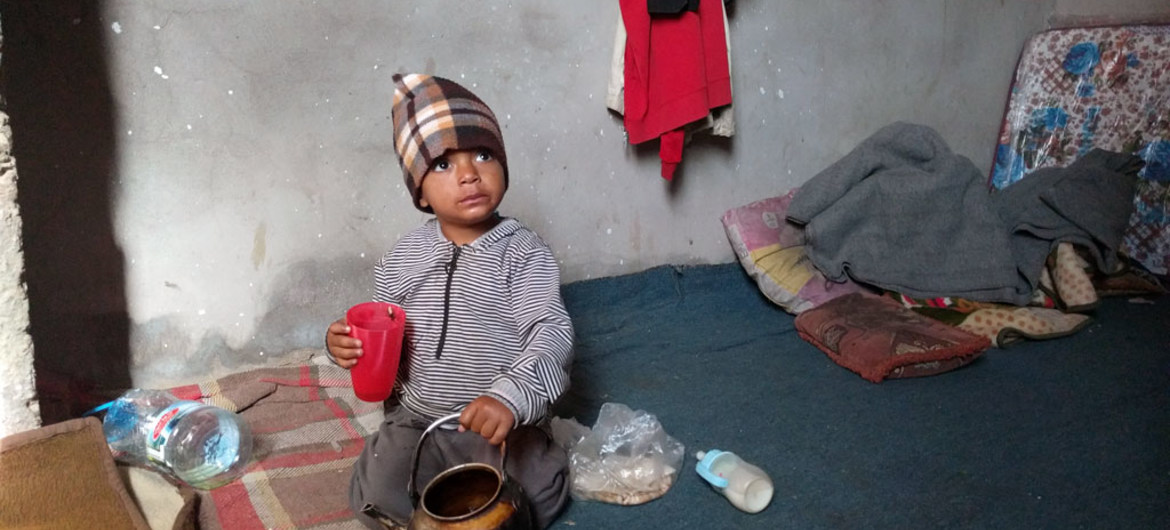 About 75 Percent of Yemen's Population is in Need of Humanitarian Assistance
YemenExtra
SH.A.
The United Nations, which is battling some of the world's worst humanitarian crises in Asia, the Middle East and Africa, still remains desperately focused on one of its equally daunting undertakings: how to send humanitarian aid to the besieged nation of Yemen.
About 75 percent of Yemen's population is in need of humanitarian assistance, including 11.3 million children who cannot survive without it. At least 60 percent of Yemenis don't have enough to eat, and 16 million people do not have safe water and proper sanitation. Many more can't get basic health services.
The US-backed, Saudi-led war on Yemen has been ongoing since 2015. As a consequence, millions more also face acute food insecurity, and the number of people living on the edge has gone up this year. The increase is largely attributable to the new and intensified Saudi airstrikes, violence and insecurity.
Worse still, hunger and disease are also on the rise for people with no food access, utilization, availability, quality and sustainability in all of the country. The horrific tally of the conflict's devastation reflects only what we know. In reality, the situation is worse. UN agencies do not have full humanitarian access to some of the hardest hit communities. In many, they cannot even assess their needs. All they say is that Yemen has passed the tipping point into a rapid decline from crisis to deepening catastrophe – all because the Saudis and their allies refuse to lift the illegal blockade on the main port city of Hudaydah.
The international agencies, however, say there has been "some progress" recently with the arrival of the first commercial fuel imports into Hudaydah port, following recent pressures from the UN and the international civil society on Riyadh to lift the blockade temporarily, but major commercial food imports are yet to be allowed in.
It should be clear by now that if UN aid agencies cannot gain greater access and the Saudi airstrikes do not subside, the cost in lives will be incalculable. To be sure, the Saudi-led blockade has exacerbated a humanitarian crisis that aid groups are calling the most severe in decades. Saudi Arabia claims it has started reopening some sea and airports, but aid workers are still reporting difficulty in providing food and medical supplies to nearly 20 million people who need help. Even Western media outlets report that the main entry point for aid, the Red Sea port city of Hudaydah, remains closed.
At any rate, International Humanitarian Law, the UN Charter, and the laws of war are clear: Saudi Arabia has no right to shut down land, air and sea routes into Yemen. Due to the criminal blockade, millions are relying on food rations from the World Food Program and other aid groups, and if the Saudis prevent these humanitarian programs, they can and should be held to account at the International Criminal Court in The Hague.
For one thing, The Hague should also hold the United States government to account because the US is providing support to the Saudi bombing campaign and blockade all because the people of Yemen would never consent to be ruled by Saudi Arabia and the US. Besides, the UN Security Council should pass a resolution that says the US military is not authorized to assist Saudi Arabia in Yemen.
Stated differently, nowhere in its Charter does the UN permit the US to fight the Ansarullah resistance fighters. This humanitarian horror is caused in part by Washington's decision to facilitate a bombing campaign that is murdering children, and to endorse a Saudi strategy that is deliberately using disease and starvation and the withdrawal of humanitarian support as a tactic.
None of these horrors should be slightly surprising. America's military power is a force for chaos, applied brutally and devastatingly, and as a way of imposing order on a nation that wouldn't consent and doesn't accept military-first conquest and occupation, no matter under what guise it has arrived.
To be sure, almost everything the US has done in Yemen over the last three years has been wrong. Its direct military involvement in the unnecessary conflict has made the poorest country in the Arab world even more messed up and chaotic than when the Al-Qaeda was operating in a small part of Southern Yemen. In that context, ending this brutal, bloody and barbaric war is not an option – it's a must. And it has to happen soon, before millions die in a deliberate famine and public health crisis.