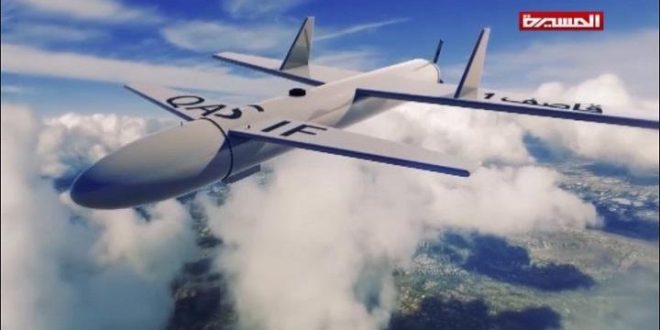 What do Yemeni Army Forces Attacks On Economic Targets do For Saudi Arabia And The UAE?
YemenExtra
Y.A
According to a report released by forbes ,attacks by Yemeni army forces on the economic interests of Saudi Arabia and the UAE appear to be increasing in number, with claims of several incidents in recent weeks targeting the two countries' oil and transport infrastructure. While Saudi and Emirati officials have denied that some of the attacks took place, other incidents have been confirmed.
The most eye-catching claim was made on July 26 when the Saba news agency, which is linked to Yemeni army forces, reported that an unmanned drone had carried out an attack on Abu Dhabi International Airport in the UAE. Citing an unnamed military official, it said the raid was carried out by a Sammad-3 drone which had recently been added to the Yemeni army forces's arsenal, it added.
It confirmed that Yemeni army forces said that air traffic to and from Abu Dhabi airport was disrupted following the assault. Officials in the UAE subsequently denied  there had been an attack, although Abu Dhabi Airport did tweet that there had been an incident at the airport at 4pm on Thursday, caused by a supply vehicle. The airport said it did not affect the airport's operations or the schedule of incoming and departing flights.
A day before the claimed attack on Abu Dhabi airport, Saudi Arabia said two of its oil tankers had come under attack in the Bab al Mandeb strait, at the entrance to the Red Sea. That led Riyadh to pause oil shipments through the narrow straits, an important choke-point for the international oil trade. National Shipping Company of Saudi Arabia (Bahri) said in a statement to the Saudi Stock Exchange (Tadawul) that its tanker Arsan was hit on the morning of July 25 while sailing in the Red Sea. The vessel suffered minor damage and no crew were hurt.
It added that Yemeni army forces have also recently boasted about drone strikes on economic targets inside Saudi Arabia, including one against the infrastructure of oil giant Saudi Aramco  on July 18. At the time the oil company merely acknowledged there had been a fire which it said was caused by "an operational incident".
Last year, Yemeni army forces claimed to have fired missiles at the UAE on a number of occasions, including a claimed targeting of the Barakah nuclear power plant  under construction in Abu Dhabi. There have also been numerous missile attacks launched into Saudi Arabia from Yemen, including a number in late 2017 and earlier this year fired towards King Khalid International Airport in Riyadh, read it.
The Saudi authorities typically claim their missile defense systems, including US-made Patriot anti-missile batteries, have been successful in protecting its territory, although there have been reports of casualties as a result of sharpnel, it stated.
Notably, taken together, these incidents highlight the fact that Yemeni army forces remain a real threat to Saudi Arabia and the UAE more than three years after the two countries launched a campaign (with other allies) to oust the rebel movement from power. The targetting of the oil and transport sectors goes to the heart of the Gulf countries' economies and, if the attacks prove more successful in the future, could have wider repercussions beyond any immediate damage to infrastructure, read it.
Additionally,  a UAE delegation recently visited a number of companies that manufacture anti-drone systems in France and Finland in early July.
In March 2015, the US-Saudi-led coalition — mainly the united Arab Emirates and Jordan — started  a war against Yemen with the declared aim of crushing the Houthi Ansarullah movement, who had taken over from the staunch Riyadh ally and fugitive former president Abd Rabbuh Mansur Hadi, while also seeking to secure the Saudi border with its southern neighbor. Three years and over 600,000 dead and injured Yemeni people and  prevented the patients from travelling abroad for treatment and blocked the entry of medicine into the war-torn country, the war has yielded little to that effect.
Despite Riyadh's claims that it is bombing the positions of the Ansarullah fighters, Saudi bombers are flattening residential areas and civilian infrastructures.
A UN panel has compiled a detailed report of civilian casualties caused by the Saudi military and its allies during their war against Yemen, saying the Riyadh-led coalition has used precision-guided munitions in its raids on civilian targets.
Sayyad Abdulmalik AL-Houthi claimed on one of his speech that Saudi Arabia is just a tool used by USA and Israel to fight Yemen to conquer it and wrestle control over Red Sea and Bab-AL-Mandab which will enable them to rule the world.
According to several reports, the Saudi-led air campaign against Yemen has driven the impoverished country towards humanitarian disaster, as Saudi Arabia's deadly campaign prevented the patients from travelling abroad for treatment and blocked the entry of medicine into the war-torn country.