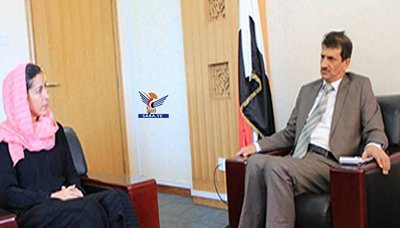 Humanitarian situation has reached its worst levels in Yemen: UNICEF
YemenExtra
M.A.
Undersecretary of Foreign Ministry, Nabil Al-Ghouli met in Sana'a on Wednesday with UNICEF Representative in Yemen Meritxell Relano.
In the meeting, al-Ghouli hailed UNICEF efforts in Yemen despite the media campaign launched by the government of the exiled Hadi and the Saudi-led coalition states, which seek to distort activities of the United Nations offices operating in Yemen.
Al-Ghouli noted to the systematic policy of the coalition countries aiming to starve the Yemeni people using the economic war.
He expressed his gratitude for the UNICEF recent humanitarian activity in the fight against cholera and the disbursement of cash assistance to the social security cases as well as its support for teachers.
UNICEF's representative affirmed that it will continue its support and activities to keep pace with humanitarian issues in the country.
She pointed out that the humanitarian situation in Yemen has reached its worst levels that the world has never seen.