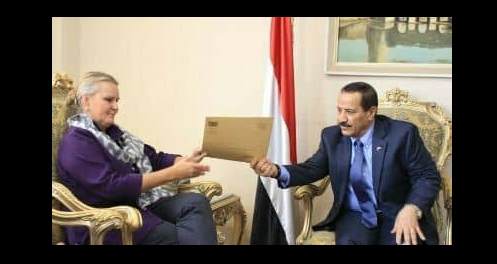 FM Met with UN Resident Coordinator to Discuss Granted Authorizations for Ships
YemenExtra
SH.A.
Foreign Minister Hisham Sharaf met with UN Resident Coordinator Liz Grande .
During the meeting, the Resident Coordinator was handed over to the Secretary-General of the United Nations, Antonio Guterres, and the Head and members of the Security Council on the need to work urgently to resume the granting of authorizations for ships loaded with fuel and foodstuffs to enter Yemeni ports, After the United Nations Verification and Inspection Mechanism (UNVIM) team in Yemen stopped two days ago granting ship entry authorizations to Yemeni ports.
Minister Sharaf pointed out that such a procedure would further complicate the humanitarian and political situation. The delay in the entry of ships loaded with foodstuffs, medical treatment, oil derivatives and commercial goods contributes to increasing the human suffering of the Yemeni people.
Minister Sharaf also delivered a letter to the Secretary-General of the United Nations on the targeting of oil installations in Hodeidah province by aggression's raids, in a clear defiance of efforts to rebuild confidence as well as the steps of calm and political settlement.
 
The meeting reviewed the developments of coordination between the Government and the UN Office in Sana'a to ensure the work of the United Nations organizations, programs and agencies operating in Yemen, in order to mitigate the consequences of the humanitarian disaster created by the coalition of aggression.
 
For her part, Liz Grande expressed her thanks for the role played by the Ministry of Foreign Affairs in facilitating the work of the United Nations organizations in Yemen.
The lack of an independent and impartial international probe into violations and crimes committed against millions of Yemenis was a major cause of the worsening humanitarian catastrophe and the continuation of daily killing in Yemen.