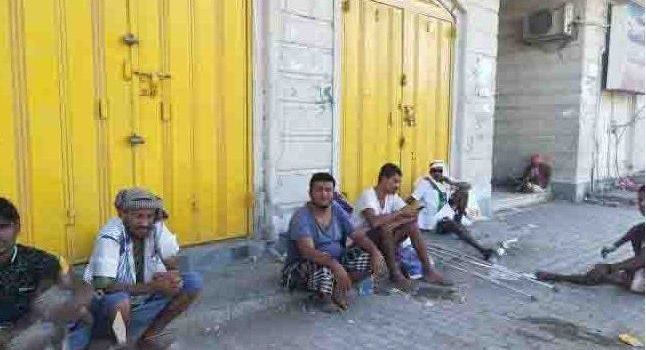 The soft weapon of Saudi-led coalition kills many Yemenis in southern Yemen
YemenExtra
Y.A
Drugs such as hashish have spread alarmingly among young men and girls, as one of the objectives of the UAE-Saudi occupation is aimed at breaking down values and morals among the Yemeni community which has led to the spread of several crimes such as kidnappings and rapes in the city since the second half of 2015 in Aden, southern Yemen, under the control of UAE, main part of the Saudi-led coalition, backed by the US.
One of the sources confirmed that one of their own relatives has resorted to using hashish, and it appeared clear through a change in the features of her face and the eyes.
Arbitrary actions by some officials in the province against the cleaning workers.
Union of workers and employees in Cleaning Fund announced that the full strike on work will be started on Wednesday ,demanding in a statement the Saudi-backed resigned Hadi's authority to pay salaries of the workers and grant the health insurance for employees at home and abroad.
Aden province has witnessed a new crisis of oil derivatives after the closure of fuel stations, and because of the failure of Hadi government to deposit the value of the received oil amounts to the account of Aden Refinery Company.
The Yemeni Petroleum Company (YPC)'s branch in Aden province accused Hadi's government and the Central Bank of not paying the value of oil derivatives quantities supplied to the company and not pumping the materials to the company's tanks by Aden Refinery.
The company said that it is waiting for the completion of the remittance process so that Aden Refinery Company can resume pumping, although it was informed last Thursday of raising the dollar exchange rate from 501 to 556 riyals by the Central Bank, and as usual this will lead to modifying the sale price of oil derivatives in stations.
In March 2015, the US -backed –Saudi-led coalition started  a war against Yemen with the declared aim of crushing the Houthi Ansarullah movement, who had taken over from the staunch Riyadh ally and fugitive former president Abd Rabbuh Mansur Hadi, while also seeking to secure the Saudi border with its southern neighbor. Three years and over 600,000 dead and injured Yemeni people and  prevented the patients from travelling abroad for treatment and blocked the entry of medicine into the war-torn country, the war has yielded little to that effect.
Despite the coalition claims that it is bombing the positions of the Ansarullah fighters, Saudi bombers are flattening residential areas and civilian infrastructures.
More than 2,200 others have died of cholera, and the crisis has triggered what the United Nations has described as the world's worst humanitarian disaster.
#YemenCantWait #YemenGenocide #Yemen #Yemencantwait #YemenGenocide #Yemen_children #StoparmingEmirates #StoparmingSaudi #Stopthewaronyemen#LivingInYemenOnTheEdge#SoldarityWithThePeopleOfYemen