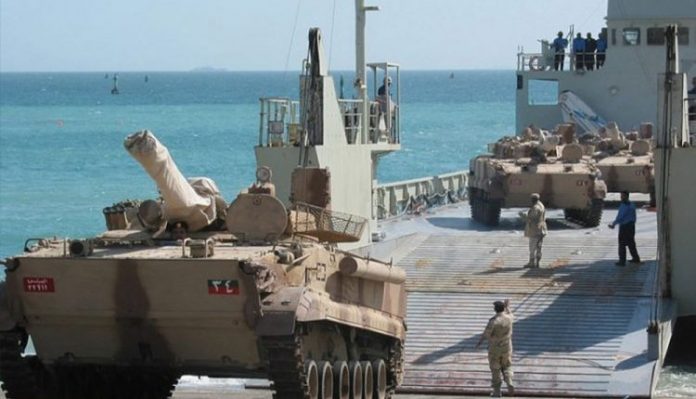 Saudi Troops Close Aden International Airport, Obliging Airlifts to Seiyun
YemenExra
Y.A
Saudi forces on Sunday closed Aden International Airport and forced all incoming flights to divert towards Seiyun International Airport.
Media sources confirmed that local authorities in Aden, whether loyal to "Hadi" government or to the southern transition, have become unaware of what the Saudi forces wants in Aden.
The sources pointed out that among the flights that were forced to divert, a Yemeni flight was coming from India with the bodies of Yemeni patients who died there.
The US-Saudi aggression against Yemen announced that its militias in the city of Aden will be under Saudi command after they were led by the UAE. For his part, Ahmed al-Masiri, Interior Minister of the pro-aggression government, expressed his rejection of the draft agreement concluded with Saudi mediation. The chapters of the implementation of the aggression's agendas on Yemen, which are not innocent, were made clear by the agreement announced Sunday in Aden between the Saudi-backed Hadi government and the so-called UAE-backed Southern Transitional Council.
Saudi military forces arrived in the province of Aden. Sputnik news agency reported a source in the local authority in Aden province as saying that dozens of Saudi soldiers arrived on a military transport plane to Aden International Airport.
The source added that additional Saudi reinforcements are scheduled to arrive in Aden for deployment, instead of the UAE forces that have withdrawn. The Saudi forces will be based in the coalition camp in Al-Buraigah district west of Aden, and Al-Anad air base in Lahj province (60 km north of Aden), according to the same sources.
In March 2015, the US -backed –Saudi-led coalition started  a war against Yemen with the declared aim of crushing the Houthi Ansarullah movement, who had taken over from the staunch Riyadh ally and fugitive former president Abd Rabbuh Mansur Hadi, while also seeking to secure the Saudi border with its southern neighbor. Three years and over 600,000 dead and injured Yemeni people and  prevented the patients from travelling abroad for treatment and blocked the entry of medicine into the war-torn country, the war has yielded little to that effect.
Despite the coalition claims that it is bombing the positions of the Ansarullah fighters, Saudi bombers are flattening residential areas and civilian infrastructures.
More than 2,200 others have died of cholera, and the crisis has triggered what the United Nations has described as the world's worst humanitarian disaster.
#YemenCantWait #YemenGenocide #Yemen #Yemencantwait #YemenGenocide #Yemen_children #StoparmingEmirates #StoparmingSaudi #Stopthewaronyemen#LivingInYemenOnTheEdge#SoldarityWithThePeopleOfYemen