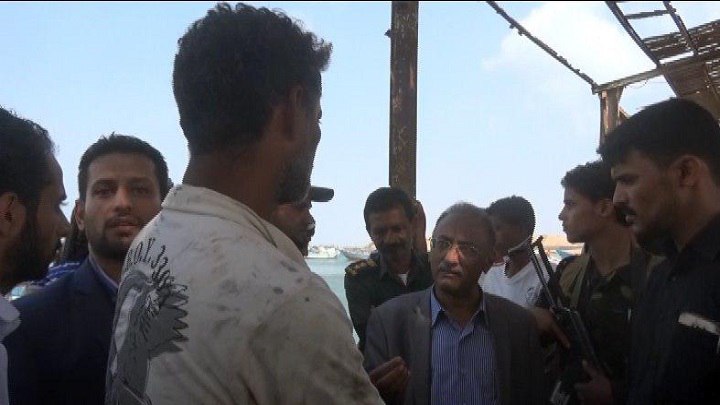 Minister of Fisheries Condemns Abuses against Fishermen, Calls for End to UAE Piracy
YemenExtra
M.A.
The Minister of Fisheries, Mohamed Al-Zubairi, denounced the arbitrary acts against the Yemeni fishermen and their detention in Eritrean prisons. He called for an end to the UAE piracy in the Red Sea and the kidnapping of fishermen and fishing boats.
Al-Zubairi said in a statement to the march on Tuesday that the Eritrean authorities are practicing in arbitrary detention against Yemeni fishermen in violation of the joint fishing agreement signed between the two countries. He noted that 78 fishermen in Eritrean prisons arrested by an Emirati vessel were recently released in the international corridor near Eritrea's territorial waters.
The minister pointed out that the Emirati ship responsible for the arrest of Yemeni fishermen is named after Abu Dhabi and is taken by Eritrean soldiers and Sudanese Janjaweed. It is pursuing Yemeni fishermen and taking them with their ships to Eritrea where the UAE has a military base there as is known.
He pointed out that the Coastguard informed the Ministry of the presence of ship named Abu Dhabi intended to detain ships and arrest them, as they depart from the UAE base in Assab Eritrean.
Al-Zubairi confirmed that Abu Dhabi is behind the piracy of many Yemeni fishing vessels and the disappearance of Yemeni fishermen, the fate of many of them is unknown.
Moreover, he explained that a committee has been formed from the Ministry of Foreign Affairs, Fisheries and Coast Guard to follow up the file of Yemeni fishermen detained in Saudi Arabia and Eritrea, and they are many and subjected to inhuman treatment.
The Minister of Fisheries appealed to the United Nations and the world human rights organizations to press for the release of the Yemeni fishermen detained and to prevent maritime piracy operations against them by the UAE, the Saudi-led coalition and the authorities in Eritrea, which is linked with the countries of aggression with security relations.
Almasirah English