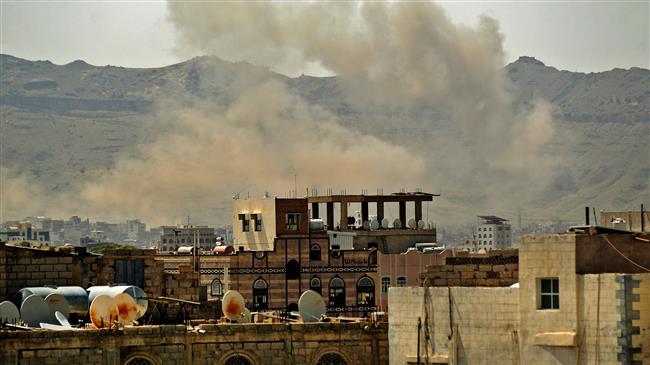 Yemeni clerics denounce Saudi-led massacre of Suba'yan tribal family in Ma'rib
YemenExtra
Yemeni religious scholars have strongly condemned a deadly attack by a group of Saudi-backed militiamen against the houses of family members of a tribal figure, demanding mobilization of more forces against the Riyadh-led coalition of aggressors and its allied militants.
According to a report by Yemen's al-Masirah TV on Tuesday, so-called Islah militiamen raided the homes of the Suba'yan family a day earlier, killing Sheikh Mohsen Suba'yan, as well as six of his brothers and children.
"We condemn the horrific crime against Al Suba'yan family by these cheap and criminal tools, who murdered its innocent members in cold blood and set their houses on fire without paying attention to presence of young children and seniors insides," the Yemen Scholars Association said in a statement released on Tuesday.
The statement added, "In the face of such criminality and brutality by the agents of the Saudi-American coalition of aggression, the Association calls for further mobilization of forces to the battlefront, Ma'rib in particular, to support the oppressed and purge the area of all criminals who have lost their religious faith in the God and Prophet Muhammad (PBUH)."
Mohammed Ali al-Houthi, a member of Yemen's Supreme Political Council, also reacted to the deadly raid in a Twitter post on Tuesday.
 "We denounce the heinous [June 29] crime committed by the mercenaries of the coalition of aggression against Al Suba'yan family in the Wadi Obeida district of Ma'rib province. They press ahead with their incessant criminal acts, and do not differentiate between civilians and military forces," he added.
Moreover, the political bureau of Houthi Ansarullah movement condemned the move, saying, "This sinful crime committed by militiamen linked to the aggressor states, which resulted in the martyrdom of Sheikh Mohsen bin Suba'yan and six members of his family, is a clear example of the arrogance and racism that the coalition of aggression and its mercenaries exercise."
Saudi Arabia and a number of its regional allies launched a devastating war on Yemen in March 2015 in order to reinstate a former Riyadh-friendly government.
Riyadh has activated and largely relies on Yemeni militants loyal to the ex-government to do the fighting on the ground on its behalf.
The US-based Armed Conflict Location and Event Data Project (ACLED), a nonprofit conflict-research organization, estimates that the war has claimed more than 100,000 lives over the past five years.
PressTV